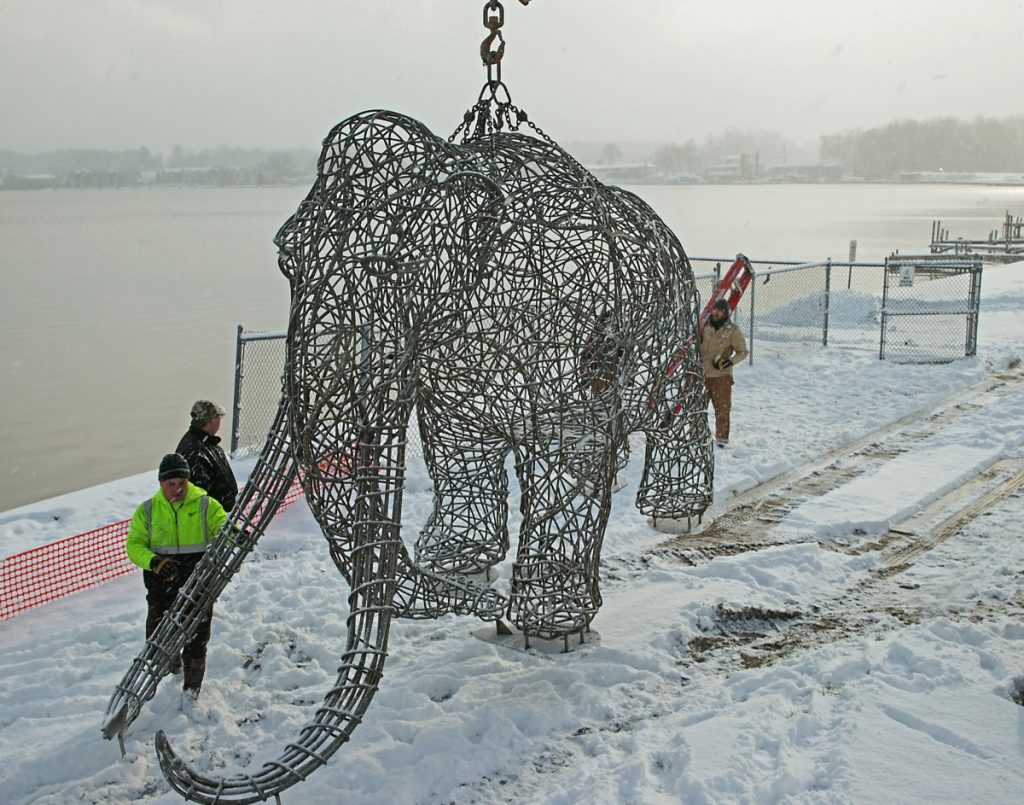 The CLCDC partnered with Allegheny College Professor of Arts Amara Geffen to jointly request funding from the National Endowment for the Arts under the "Our Town Initiative" in 2014 and was chosen to receive a $75,000.00 grant which had a 100% match requirement meaning that it would be a $150,000.00 project in total.
After 2 years of planning and community engagement, it was decided that a 10-foot high, nearly 3,000-pound woolly mammoth art piece would be installed on the lake's edge at Fireman's Beach. A woolly mammoth was chosen because of the history of the woolly mammoths in the area.  The bones of at least five woolly mammoths are still at the bottom of Conneaut Lake and the bones of one are on display at the Conneaut Lake Area Historical Society Museum.
Welding shop owner Craig Newell of Cambridge Springs was selected to fabricate Professor Geffen's design conception which was created of steel locked together to form a shell that was overlaid with steel rods to give it a basket weave, nest-type appearance. When it was completed, the steel form was removed and the body of the woolly mammoth was all that remained thus giving it a basket weave pattern so that it looks like a nest up close, but when the viewer stands back, the shape of the mammoth is seen.
Geffen's involvement also included the participation of Allegheny College students who collected local stories through the community engagement events. Snippets of these stories were laser jet cut into steel welded onto the sculpture. These snippets are "in poetic form, not didactic". This sculpture will be seen at Fireman's Beach for generations to come and will create and enhance a sense of place and identity that we believe will also promote economic growth.